On a former railway, still passing by the original stations, offer yourself a nice pedaling ride through the countryside of the "Périgord Vert". Step on a strange machine, called Vélo-rail, up to 5 people, and enjoy a nice promenade of 11 or 20 km on a part of the railway that once linked Brive and Angouleme.
The track starts at the railway station of Corgnac sur l'Isle, about 30 kilometers from the Château le Verdoyer. 
Bookings are required and it is advisable to arrive 30 minutes before the scheduled departure (in order to guarantee the booking).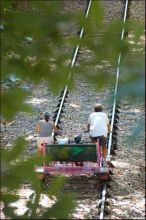 In July and August, only one journey will be possible: Corgnac / Thiviers (11 km round trip).
Outside July and August, according to the permissions of the rail network of France, you can choose out of 3 routes: Corgnac / Thiviers, Corgnac / St Germain (11 km) or a loop Corgnac / Thiviers / St Germain / Corgnac of 22 km with an opportunity to picnic.
The Vélo-rail is an original way to discover the region, its fields and forests, but above all to have a great time with your family.
 
Even if the circuit is flat, you still need to pedal and two adults is a minimum to make the trip not too difficult. But do not worry, most of the journey is shaded.