The Green Perigord is perfect to go walking or have a bike ride.
But some people prefer horse riding.
These people can take the road to Milhac de Nontron, only 12km. away from Chateau le Verdoyer.
In this little village of the Perigord Vert the stables of Milhac de Nontron are welcoming them with pleasure.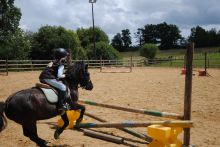 The equestrian center has a large enclosed arena where the beginners can follow some horse riding lessons.
Also the kids are welcome to follow pony riding lessons.
Beside that the equestrian center is also proposing initiations for the littlest ones.
The ponies and horses are living in a privileged setting, in the middle of meadows, far away from the crowds.
This gives you the opportunity to ride the horses in calm, soothing environment, adapted to all levels.
Besides the lessons in the arena, the equestrian center also offers horseback trips into the forest of the Perigord Vert.
Whichever way you choose, you will always be accompanied by qualified instructors, who are always ready to teach you the secrets of riding or to accompany you on trips.
For more information about the different possibilities, you can directly contact the stables on the number 33688332557. Or request more information about this riding school in the reception of Chateau le Verdoyer. Or enjoy the Internet site : www.lesecuriesdemilhac.fr