The geological pearl of the Périgord
Even when you have travelled through the Perigord many times in the past, and you think you know all its secrets, sometimes a new treasure can be discovered. 
This is the case in Tourtoirac, where a new "grotte" has been open to the public since 2010.
In 1995 the cave has been discovered by a neighbour, Jean Luc Siriex. Unfortunately, during the second dive in the cave, accompanied by a friend, he drowned.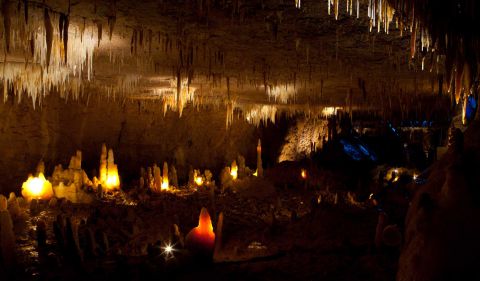 By the will of John and Arlene Siriex, parents of the inventor of the cave, it became a tourism project and after several years of work, it opened its doors to the public in May 2010.
From the moment you enter the cave carved by an underground river, you fall under the spell of this magical place where water and time has created and transformed the stone and given to the limestone unreal forms, magnified by the light show that accompany the visitor during his dive to 25 meters underground. The 300-meter walk (the cave extends over 3 km, but the choice was made ​​to preserve it, by laying just 10% out) are accessible to all : a lift brings you down into the basement and the entire course is flat and designed for the disabled.
This journey to dreamland will delight young and old ...
More details and opening hours on the site of the cave of Tourtoirac.